Tremendous Savings
NDCP knows a lot about reducing COGS while delivering quality products and services. After all, our Sourcing programs have been specifically built for the restaurant industry. Customers benefit from our tremendous scale – currently $2 billion in core spend – and proven experience bringing together disparate sourcing and purchasing programs. Our organization is vertically integrated, with first-hand experience sourcing and distributing to restaurant and foodservice operators. Those key differentiators have allowed us to help customers save more than $1.3 billion cumulatively since our inception in 2012.
$1.3 Billion
Saved by NDCP customers
since our inception.
Key Offerings
Strategic Sourcing Events (RFIs, RFQs, RFPs)
Customized Supplier & Distributor Contract Negotiation
Category Management (End-to-End Sourcing)
Risk Management
Spend Analysis & Visibility
Food Service & Supply Chain Consulting
Areas of Expertise
Strategic Sourcing
Our strategic sourcing team drives cost savings in numerous ways. We identify excellent suppliers who can match customer specifications, negotiating volume discounts and contracts that provide the lowest sustainable cost for products and services. Creating strong relationships with suppliers and business partners allows us to ensure the continuity of supply and drive COGS innovation through spec optimization.
NDCP's commodity strategy is based on continuous research and analysis of the commodities markets, combined with proactive strategies for taking hedges that mitigate risk. We mitigate risk in the base commodity markets that comprise core customer products with three primary goals – supply continuity and assurance, price stability and cost planning.
Equipment Solutions
NDCP's Equipment Solutions Group plays a big role in the successful functioning of a foodservice operation. In an increasingly complex industry, our goal is to make things as easy as possible for customers.
We provide everything customers need to effectively construct, remodel, and operate their restaurants. Areas of expertise include equipment and smallwares supply, as well as essential items and services that support repair and maintenance, logistics and consolidation, and remodel and new construction management needs. Our team's tremendous negotiation and buying power also ensures customers receive the most competitive pricing on equipment and services.
Program Management
Innovation to market requires the ability to be agile, to capitalize on emerging trends while ensuring supply production and inventory are carefully managed. Our program management team maximizes efficiencies by overseeing the execution of limited-time offers (LTO's) and special marketing promotions between NDCP and customers. It is about focusing on the right product in the right place at the right time.
Unique in the supply chain arena, our proactive program management model makes supply chain a value-added partner with brands in the decision-making process from concept development to commercialization, testing to launch. Taking ownership of this relationship among cross-functional customer groups ensures all aspects of LTOs are well planned and executed including sourcing, production, logistics, continuity of supply, forecast accuracy, risk mitigation and limiting obsolescence.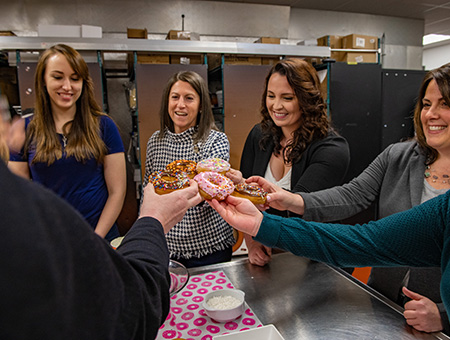 Valuing Diversity
Just as we are committed to an inclusive workplace, NDCP values diversity within our supplier base. It is important for our business to have a multitude of perspectives that represents the markets we serve. Tapping into that wealth of expertise allows us to provide customers with the best solutions for existing, new and specialty products and services. Visit our FAQ section (link) to learn more about becoming an NDCP supplier.