Extensive Network
Each year, our extensive distribution network makes 700,000+ deliveries of over 86 million cases, driving more than 30 million miles. NDCP currently has nine distribution centers nationwide and 30+ logistics hubs, allowing us to reach 58% of the U.S. population within a day.
We have an experienced, professional operations workforce. Tenure levels exceed industry averages. Prior to the pandemic, the average tenure at most of our Distribution Centers was eight years for drivers and five years for warehouse personnel. A long-standing emphasis on safety and innovation helps us retain top talent.
86+ Million
Number of cases distributed during
700,000+ deliveries each year
, with our network driving more than 30 million miles
Notable Developments
Implemented MoveSMART® Ergonomics training to reinforce at-work safety habits while preventing injuries. Emphasizing hands-on practical applications with simple adjustments, we reduced warehouse injuries by 40%. Our efforts to create safe handling zone techniques was recognized with the national MoveSMART Excellence Award in 2020.
Optimized technology with the deployment of an innovative digital delivery platform that uses POD (Proof of Delivery) devices to capture signatures, confirm delivery, collect feedback, take pictures and provide an estimated time of arrival, all of which increased customer visibility to their delivery in real time.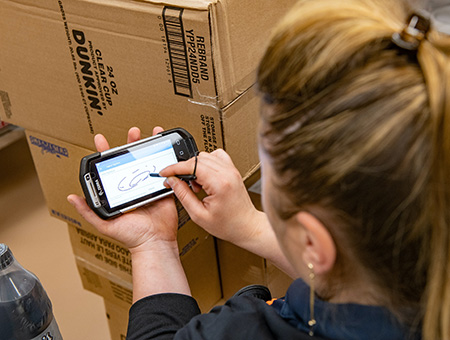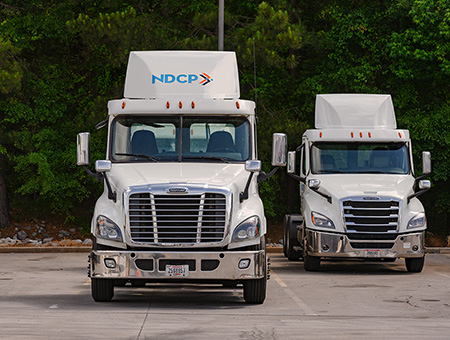 Piloted 360◦ Omnivue camera system that gives our drivers a bird's eye view of the vehicle and surroundings, essentially eliminating blind spots. The test site showed a significant decline in slow moving accidents, which minimized or eliminated damage to store parking lot signage, curbs and light poles.
Our fleet equipment strategy ensures NDCP uses well-maintained, newer equipment. We cycle equipment out when they've exceeded their expected useful life. Tractors, every five years, trailers, every seven years, all on full-service maintenance contracts.
Customers can reap the benefits of our distribution network as part of a comprehensive supply chain solution.
Distribution Technology
NDCP understands what restaurants and food service operators need when it comes to IT-based supply chain solutions. We are constantly investigating ways to innovate our distribution processes with the latest technology.
In today's world, cybersecurity threats represent the single largest area of concern for modern connected businesses in the foodservice industry. You have probably seen the numerous headlines about major suppliers and food manufacturers experiencing security incidents that caused significant disruptions.
While no business can completely eliminate cybersecurity threats, NDCP does everything we can to protect our customers and team members. Maintaining the security of your sensitive data, privacy, and proprietary business information is at the forefront of our IT operations. We continually invest in technologies, people, and processes aimed at reducing our exposure to such risks. The IT team has also fortified NDCP's abilities to appropriately respond and recover business operations if an incident ever impacts our computing environments.