March 15, 2022
From Behind the Scenes to Behind the Wheel
As an organization committed to the development of our employees, National DCP firmly believes that investing in the growth of our people is investing in the future of our company. We have countless employees that demonstrate a passion for their job with a "how can I step up" mentality.
Selectors Wes Reynolds and Jon Salteres and Delivery Assistant Andrew Forsythe from the Groveland distribution center are three of NDCP's many go-getters.
With a nationwide driver shortage, Wes, Jon and Andrew sought out an opportunity to advance from their day-to-day warehouse and operations positions by acquiring their Commercial Driving License and applying for NDCP's Driver Training Program to earn their Class A license.
Our Driver Training Program is a 9-month course that takes serious dedication. You must attend a driver orientation conducted by a local Operations Manager, train in the yard to learn proper unhooking and hooking of tractor trailers, drive with a Shuttle Trainer to learn proper highway driving, work PM deliveries and kitchen runs, complete 16 weeks of driving on day routes, and document a total 10,000 miles of drive time. The final hurdle is a ride along with a supervisor.
This transition is no easy feat, but these employees rose to the challenge and have been essential to getting product delivered and the overall success of our business.
Wes Reynolds began his NDCP career in September 2014 and has been a leader amongst the Groveland Selectors. He is a firm believer in paving your own path to success, which is exactly what he did when transitioning to become a driver. "As important as it is for your boss to know what your expectations are, it's critical to take control of your career progression," said Wes. "You'll find that with a 'Do More' mindset, you will achieve many little things that bring great value to your professional presence. Working in the warehouse, and now as a driver, has provided me with a unique perspective of the supply chain."
Jon Salteres is the newest of the three, joining the NDCP team in December 2017.He enjoyed the experience and insight he gained as a Selector and the comradery that came from working in the warehouse, but ultimately was ready to take on a new challenge. "If you have the skills, the mindset, and the determination to progress, you will get to where you want to be. I am always looking for the next professional challenge."
Andrew Forsythe's NDCP career dates back to September 2016 when he joined the team as a Delivery Assistant. He is proud to say his new role as a driver is the best job he's ever had. "Between my incredible management team and colleagues at Groveland, opportunities for growth, great pay, and getting to be home every night with my family, this job is the total package."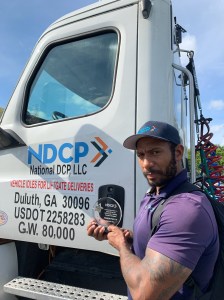 The sky is the limit for these three.
"Great leaders inherently know what people need, are invested in their development and consistently help to develop others," said Groveland's Vice President of Operations John Behrens. "Wes, Jon, and Andrew embody this by being self-starters and leading others by example. I refer to them as 'NDCP-tized' based on the way they serve our customers and the passion they have for what we do."
Thank you, Wes, Jon and Andrew, for your commitment to the business, setting the bar high, and valuing professional development!